Cleaning of the ducts improves the air quality in your home due to the removal of pollen, mold spores, mildew, bacteria and dust from the system. You may also notice that you are dusting less often and that your system operates more efficiently.
We are a family business and guarantee all of our work.
If you have any questions or would like to arrange an appointment then please contact us at 281-352-1794.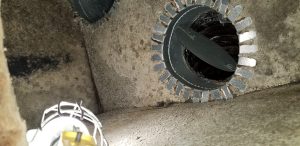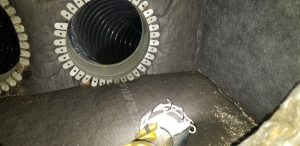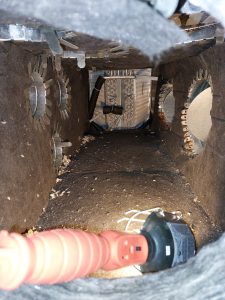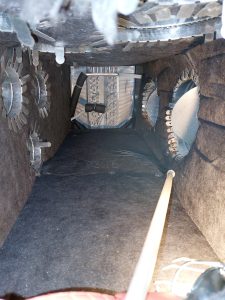 The FIRST STEP is the removal of all your vent covers or registers. These are cleaned and later sanitized. We also carry new bright white plastic vent covers if you would like to change out any of your old vents. They are an average of $10 each for most sizes.

SECONDLY, each duct is cleaned from the vent opening all the way to the air handling unit using a "source removal" cleaning method. We use a high pressure air hose and compressor in conjunction with a commercial air duct cleaning vacuum with a HEPA filter. The system is put under a negative pressure using the vacuum and then the air hose is worked through the system to agitate the dirt which is then pulled out of the system by the constant vacuum. The returns are cleaned in the same manner.

The THIRD STEP is the cleaning of the plenum area. Since we are HVAC licensed, we go to the attic and access the plenum area where the ducts are attached at the unit. It is thoroughly cleaned and then we clean the ducts again working from the back side going forward.

The LAST STEP is the application of an EPA registered sanitizer. The entire system is sanitized using an atomizing fogger. We use a hypo-allergenic sanitizer called Enviro-Con which eliminates microscopic organisms that can cause respiratory problems and odors.
To help maintain a cleaner, healthier environment, we recommend using a high quality filter such as an ASHRAE tested electrostatic filter.  Most disposable filters only filter out 5%-7% of dust and pollen whereas an electrostatic filter removes 77%.
We can also replace your moldy air vents
We provide Air Duct Cleaning, Dryer Duct Cleaning, and Chimney Sweep services in the following locations:
Cities
The Woodlands, Texas
Spring, Texas
Humble, Texas
Mont Belvieu, Texas
Baytown, Texas
Pasadena, Texas
Bear Branch, Texas
Legends Bay, Texas
Northcrest, Texas
Valley Ranch, Texas
Porter, Texas
New Caney, Texas
Woodbranch, Texas
Patton Village, Texas
Atascocita, Texas
Crosby, Texas
Huffman, Texas
Kingwood, Texas
Neighborhoods
Northcrest
Valley Ranch
Winfree Bayou Estates,
Fosters Mill
Green Tee
Kings Forest
Fairway Crossing
The Commons
Summerwood
Lake Shore
Waters Edge
Kingwood Glen
Oaks of Atascocita
Kings River Village
Kings Lake Estates
Pinehurst of Atascocita
Eagle Springs
Atasco Woods
Walden
Timber Forest
Atascocita Meadows
Atascocita Forest
Newport News
Saddleridge
Spanish Cove
Indian Shores